井の中の蛙大海を知らず : Daoist Proverb in Japanese Calligraphy (書道, shodō)
Summary:
Toshie Kenney creates a work in 書道 (Shodō) or Japanese calligraphy, of the Daoist proverb, 井の中の蛙大海を知らず (The frog in the well knows nothing of the great ocean).
Fieldnotes:
This proverb references a fable in the Zhuangzi, one of the major books in Daoist philosophy written by Master Zhuang in the 4th century BCE. In the fable, a turtle comes across a frog stuck living in the bottom of a well. The frog claims that the bottom of the well is paradise and boasts that there is no greater body of water than the well where he lives. A curious turtle attempts to enter the well but fails, and instead begins to tell the frog about the immense size of the sea — however the turtle is unsuccessful in convincing the frog to leave his well to explore a new, greater sight.
From The Artist/Community :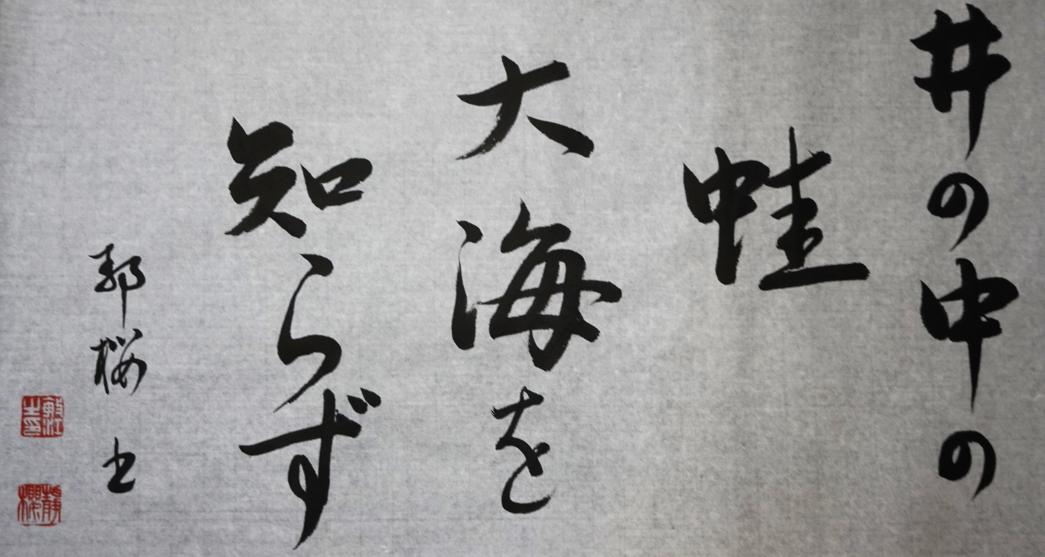 井の中の蛙大海を知らず
The frog in the well knows nothing of the great ocean
Toshie Kenney
2017
Rights:
emillar@niagara.edu